The District Detroit: Another Bad Deal?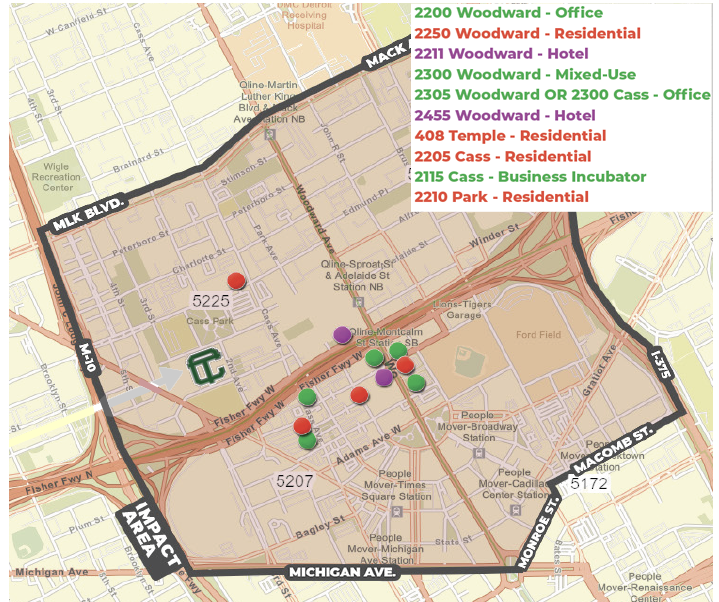 After years of empty promises and planning (beginning in 2014), the Stephen Ross and Illitch family-led development christened "The District Detroit" will soon begin formally constructing a series of luxury hotels, mixed-use apartments, and office buildings in north Downtown. With a price tag of about $1.5 billion, it has been billed as a dynamic catalyst in the rejuvenation of Detroit's economy and physical landscape. However, as we have learned with previous big corporate developments of this kind, "all that glitters ain't gold".
First, the District has already sucked up about half a billion dollars in public money with the construction of Little Caesars Arena and the soon to come Detroit Center for Innovation, anchored by the University of Michigan. With the new proposed builds, the billionaire developers will be seeking even more public money in the form of a $616 Million in Transformational Brownfield funds. When we factor in the interest on bonds, value of public land, and bonus incentives, public investment for these projects will be well over a billion dollars (and to put it in perspective, that sum is about Detroit's entire annual general fund).
So, what do Detroiters get for a billion dollars?: (*drumroll please*) low-wage jobs and a handful of cramped studio apartments. The developers have boasted about the creation of 6,000 permanent jobs and affordable housing provisions that will set aside 20% of its residential units at 50% AMI. The problem is Detroiters never get the high paying jobs in these deals—they almost always go to white suburbanites. And while providing housing at 50% AMI is better than most (sadly), these units will more than likely be small and not for families with kids, which is the household type that need affordable housing options in Detroit. We suspect that The District's "affordable housing" is designed for students and the young white professionals who will eventually get the good paying jobs they plan to create, not Detroiters.
Detroiters should get much more in return for their investment and the Community Benefits Ordinance (CBO) is the way to do it. The CBO allows residents to directly negotiate with developers for benefits that create equity in an unjust practice of land commodification. The District development is currently going through the CBO process and has already selected the Neighborhood Advisory Committee (NAC), residents in the impacted area who will represent community interests in the negotiations. 
The NAC, as it stands today, does not reflect the community as it is overrepresented by political operatives, developers, and corporate business types. Our fear is that this NAC will align work to serve their own political and business interests, and not the needs of average, everyday community folk like impact area low income seniors, children, and working-class families.
To ensure the delivery of true community benefits, there needs to be some specific racial equity goals associated with the project. To start, an environmental impact study must be conducted during construction as well as post construction. Next, there needs to be a comprehensive plan in place to ensure that as property values spike (and they will), longtime residents are not displaced by rising rents as a result. Lastly, the provisions for affordable housing must reflect the real housing needs of Detroit. That is, a majority of the affordable housing units must be 2- and 3-bedroom apartments that are able to accommodate households with children. The affordable units should also be provided in perpetuity—that being as long as the building is standing.
Residents interested in attending the CBO meetings can do so in person or virtually on every Tuesday at 6pm from January 10th to February 14th. In-person meetings will be held at Cass Technical High School. To attend virtually, sign up at: https://bit.ly/DistrictDetroitCBO.