#3 CUTS TO PUBLIC TRANSIT WHEN WE NEED IT MOST
In 2021, the Detroit Department of Transportation (DDOT) and the administration failed to abide by city charter-mandated rights of essential riders to reliable, convenient, and comfortable transportation. This began with DDOT resuming fare collection in March when essential riders were most affected by severe cuts to their income. The administration ignored the federal Title VI rights by initially failing to speak to the disparate impact on majority Black essential bus riders when deciding to relocate the State Fairgrounds Transit Center.
Later in the year, DDOT announced proposed cuts to bus service by slowing down frequency of buses, eliminating the century old Clairmount #11 and the Tireman #47, and the recently created Junction #26 in southwest Detroit, and stopping 24-hour service on Jefferson, Vernor, and Michigan Ave from 1am - 3am. As the year closes, DDOT remains silent on its promise to reform para-transit services for disabled Detroiters and how designated funds for transit from the American Rescue Plan (ARP) will be allocated.
Learn more about DPP's Transit Justice organizing.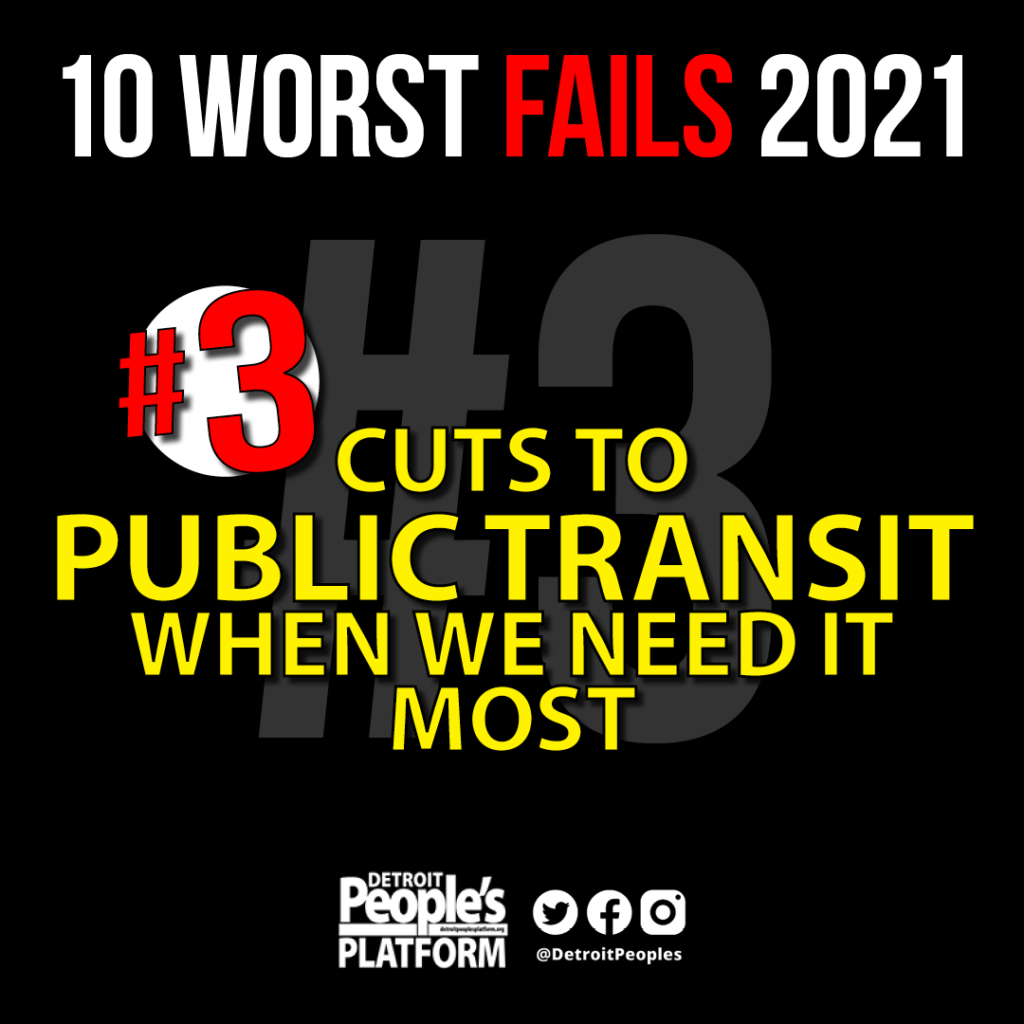 2021 was another difficult year for many Detroiters.
The problems we face have been intensified by the failures of Mayor Duggan, Detroit City Council Members and the City Departments that implement their policy. The pains we feel have increased due to the failure of many community leaders to demand better for majority Black Detroit. 
Detroit People's Platform keep it real by ditching the 'best of' list to call out the 10 worst failures of 2021
Note: This is not intended to be an exhaustive list and our ranking is based on analysis of impact on neighborhoods DPP organizes with. Injustice is rampant in Detroit.
IN 2022, JOIN WITH DETROIT PEOPLE'S PLATFORM BECAUSE WE WIN WHEN MAJORITY BLACK DETROIT FIGHTS BACK!
The Detroit People's Platform (DPP) is building a Detroit where race and the priorities of Majority Black Detroit are centered.  Our work advances racial and economic Justice in the nation's largest Black majority city by organizing with community residents and community leaders to build grassroots power and transform systems and structures that make real the vision for a more racially just Detroit.
Sign up below and
STAY UP TO DATE
Join our mailing list and stay up-to-date on all the events and activities at Detroit People's Platform.