#5 THE FAILURE OF THE CITY BUDGET TO REFLECT KNOWN COMMUNITY NEEDS & DEMANDS
Last year, in accordance with the Community Outreach and Notification Ordinance, which is supposed to give residents input in decision-making, Detroit launched an outreach program called the Community Budget Priorities initiative to get residents involved in the budget process. The initiative revealed that community wanted to reallocate money from the police budget; allocate more money for transit to improve services and performance; expand affordable housing opportunities; and fix-up city parks and libraries. However, what community asked for is not what community got. In contradiction to community budgeting priorities, elected officials failed to produce a budget that reflected the expressed interests of Detroit residents. The final budget increased police spending, provided zero dollars to improve public libraries, and made minor investments in affordable housing and transit.
Learn more about our Budget Watch and Economic Justice organizing.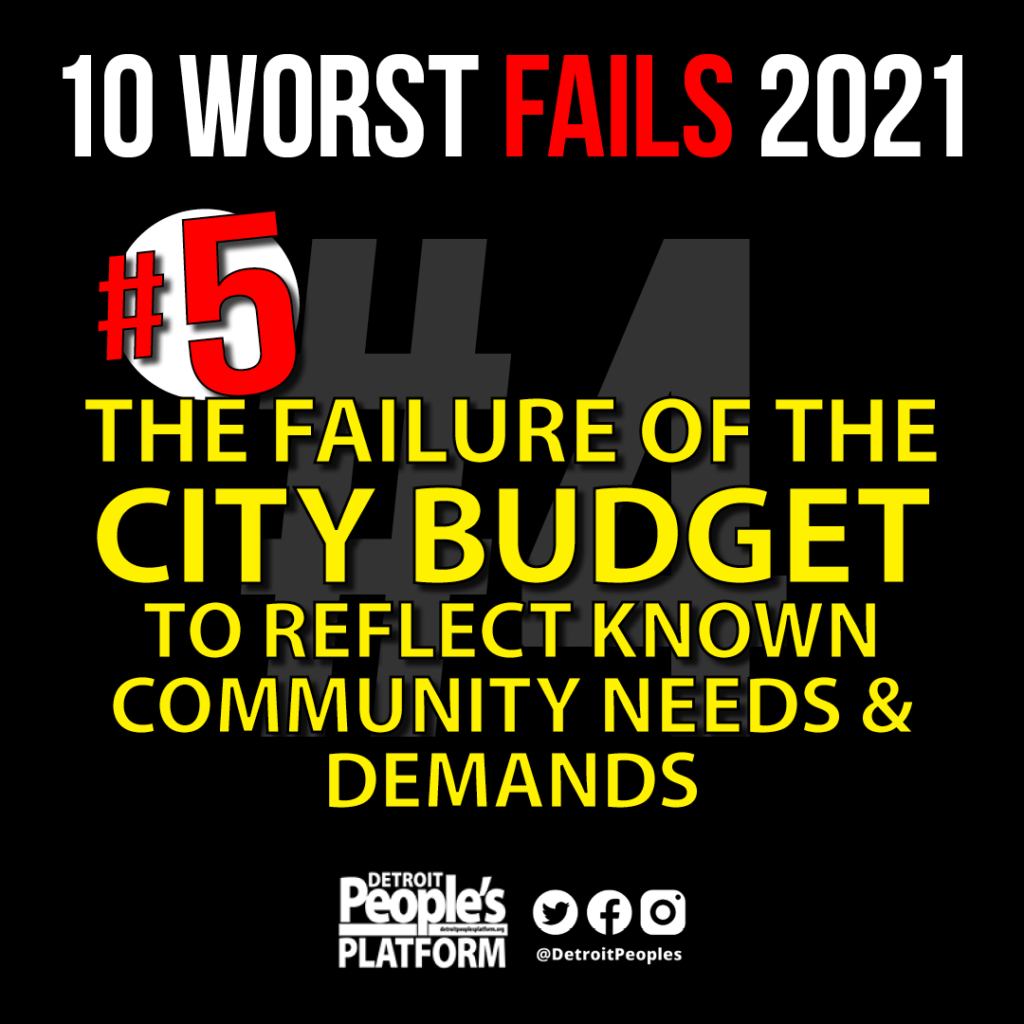 2021 was another difficult year for many Detroiters.
The problems we face have been intensified by the failures of Mayor Duggan, Detroit City Council Members and the City Departments that implement their policy. The pains we feel have increased due to the failure of many community leaders to demand better for majority Black Detroit. 
Detroit People's Platform keep it real by ditching the 'best of' list to call out the 10 worst failures of 2021
Note: This is not intended to be an exhaustive list and our ranking is based on analysis of impact on neighborhoods DPP organizes with. Injustice is rampant in Detroit.
IN 2022, JOIN WITH DETROIT PEOPLE'S PLATFORM BECAUSE WE WIN WHEN MAJORITY BLACK DETROIT FIGHTS BACK!
The Detroit People's Platform (DPP) is building a Detroit where race and the priorities of Majority Black Detroit are centered.  Our work advances racial and economic Justice in the nation's largest Black majority city by organizing with community residents and community leaders to build grassroots power and transform systems and structures that make real the vision for a more racially just Detroit.
Sign up below and
STAY UP TO DATE
Join our mailing list and stay up-to-date on all the events and activities at Detroit People's Platform.