#6 CORRUPTION IN DETROIT CITY COUNCIL
"In late August, FBI agents raided the homes and offices of Councilmembers Scott Benson and Janeé Ayers and staffers. When FBI agents raided Benson's and Ayers' offices on Aug. 25, they were hunting for bank records, check stubs, cash, campaign finance records and documents regarding 501c4 social welfare organizations, according to search warrants obtained by The News. They ended up seizing electronics, towing paperwork, shredded documents and payroll records for an aide of Benson. The non-profit tied to Benson is Save Detroit Jobs, which helped torpedo Prop A, a 2016 grass roots community benefits initiative opposed by Detroit Mayor Mike Duggan and the development industry."
Read More: https://www.freep.com/story/news/local/michigan/detroit/2021/08/25/detroit-city-council-fbi-raid-janee-ayers/5584587001/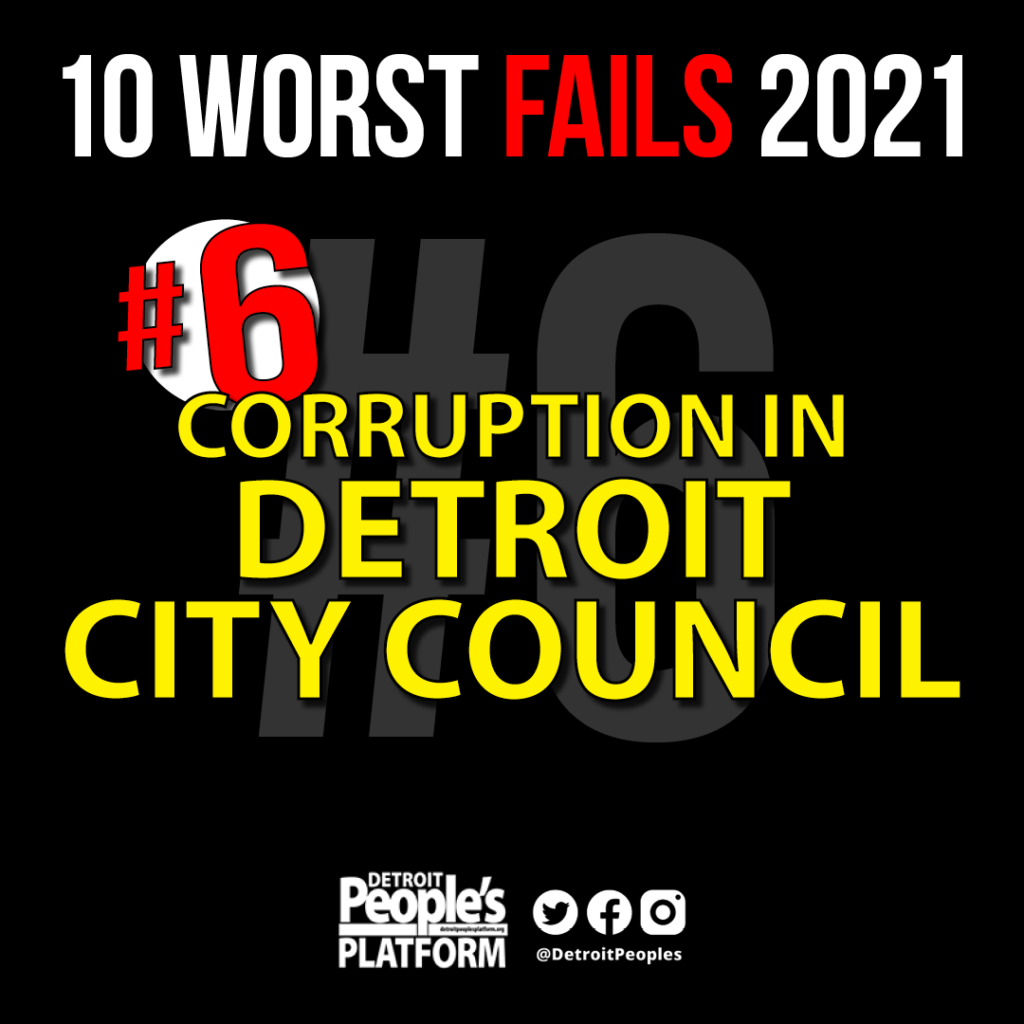 2021 was another difficult year for many Detroiters.
The problems we face have been intensified by the failures of Mayor Duggan, Detroit City Council Members and the City Departments that implement their policy. The pains we feel have increased due to the failure of many community leaders to demand better for majority Black Detroit. 
Detroit People's Platform keep it real by ditching the 'best of' list to call out the 10 worst failures of 2021
Note: This is not intended to be an exhaustive list and our ranking is based on analysis of impact on neighborhoods DPP organizes with. Injustice is rampant in Detroit.
IN 2022, JOIN WITH DETROIT PEOPLE'S PLATFORM BECAUSE WE WIN WHEN MAJORITY BLACK DETROIT FIGHTS BACK!
The Detroit People's Platform (DPP) is building a Detroit where race and the priorities of Majority Black Detroit are centered.  Our work advances racial and economic Justice in the nation's largest Black majority city by organizing with community residents and community leaders to build grassroots power and transform systems and structures that make real the vision for a more racially just Detroit.
Sign up below and
STAY UP TO DATE
Join our mailing list and stay up-to-date on all the events and activities at Detroit People's Platform.