#7 - INADEQUATE RESPONSE TO FLOODING IN JEFFERSON CHALMERS
In 2021, local impacts of climate change were felt more than ever. On June 25, 2021 a massive rain event flooded basements throughout the region, with residents in Jefferson Chalmers being hit hard - again. This is another example of how the city's priorities have failed majority Black Detroit and long-standing residents. Rather than invest in infrastructure needed to protect Detroiters and maintain Black home ownership, decision makers have offered up over a BILLION Dollars in tax incentives and abatements for private development projects. Now, the Federal Emergency Management Agency has expanded the floodplain and the area where residents will now be required to have flood insurance. "That could add up to thousands of dollars more per year to the already expensive cost of buying, insuring and paying taxes on Detroit property," reports Crain's Detroit Business.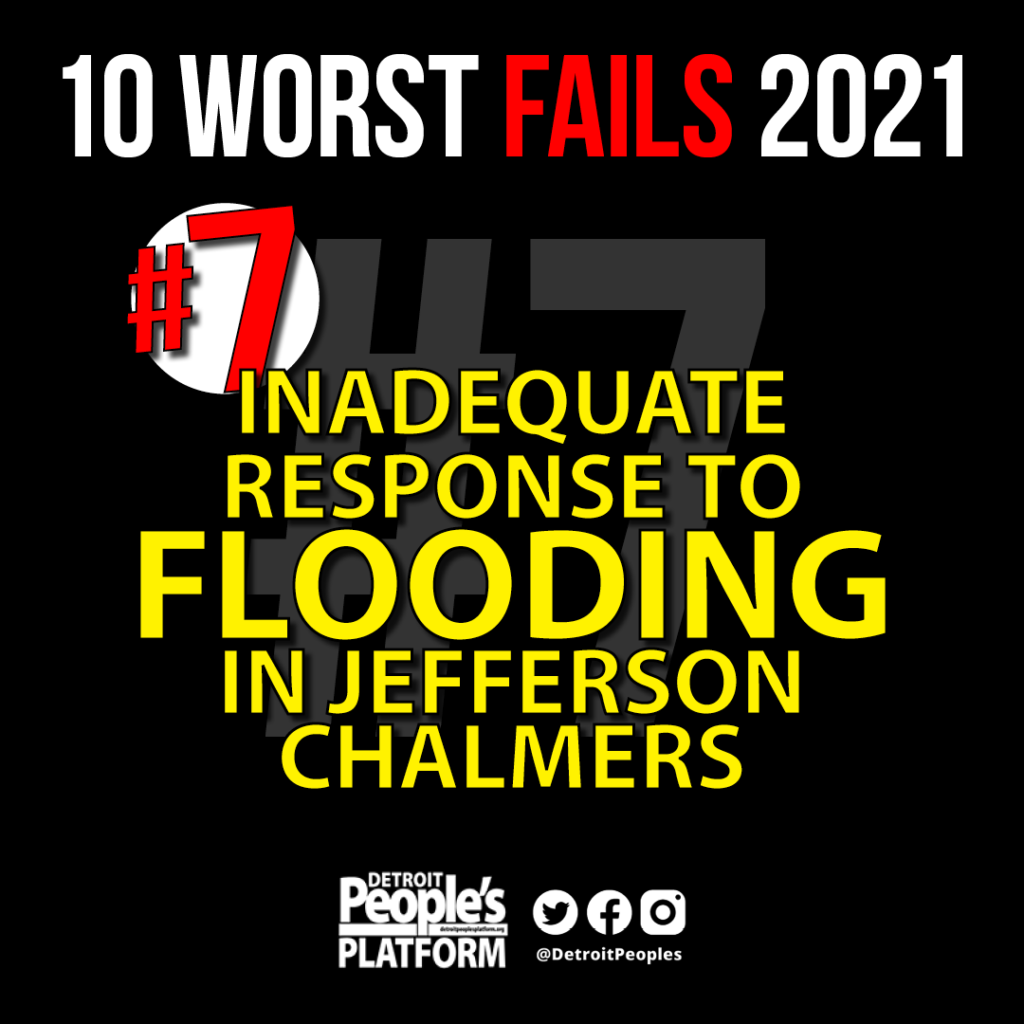 2021 was another difficult year for many Detroiters.
The problems we face have been intensified by the failures of Mayor Duggan, Detroit City Council Members and the City Departments that implement their policy. The pains we feel have increased due to the failure of many community leaders to demand better for majority Black Detroit. 
Detroit People's Platform keep it real by ditching the 'best of' list to call out the 10 worst failures of 2021
Note: This is not intended to be an exhaustive list and our ranking is based on analysis of impact on neighborhoods DPP organizes with. Injustice is rampant in Detroit.
IN 2022, JOIN WITH DETROIT PEOPLE'S PLATFORM BECAUSE WE WIN WHEN MAJORITY BLACK DETROIT FIGHTS BACK!
The Detroit People's Platform (DPP) is building a Detroit where race and the priorities of Majority Black Detroit are centered.  Our work advances racial and economic Justice in the nation's largest Black majority city by organizing with community residents and community leaders to build grassroots power and transform systems and structures that make real the vision for a more racially just Detroit.
Sign up below and
STAY UP TO DATE
Join our mailing list and stay up-to-date on all the events and activities at Detroit People's Platform.