Please note: The Eviction Stay has now been extended to June 11, 2020 by Governor Whitmer.
https://www.detroitnews.com/story/news/local/michigan/2020/05/14/gov-whitmer-extends-eviction-suspensions-through-june-11/5196505002/?fbclid=IwAR1tWGdowOvFxNenN9kIr06q1pXddc9gblwF_suTh5913j8wdIzQK_7YE9o
In consideration of the devastating health and economic impact of COVID-19 virus pandemic many housing advocates and activists are calling for a MORATORIUM on rent payments including late penalties and fees. Some advocates are even calling for RENT CANCELLATION during the COVID-19 pandemic in addition to a STAY on EVICTIONS.  (Moratorium is a suspension or an authorized delay or period of time during which the law authorizes a delay in payment or some other legal obligation. This type of moratorium is most often invoked during times of distress such as war, natural disaster or emergencies)
We want to make sure Detroit renters are clear on the current policy that exist in regard to rent payments and evictions. The STAY on EVICTIONS issued under Michigan Governor Whitmer's current Emergency Order extends the STAY on EVICTIONS thru May 28, 2020.  This also applies to 36th District Court.
The STAY on EVICTIONS does not mean you do not have to pay your rent. RENT CANCELLATION or RENT FORGIVENESS is not the same as a STAY on EVICTIONS.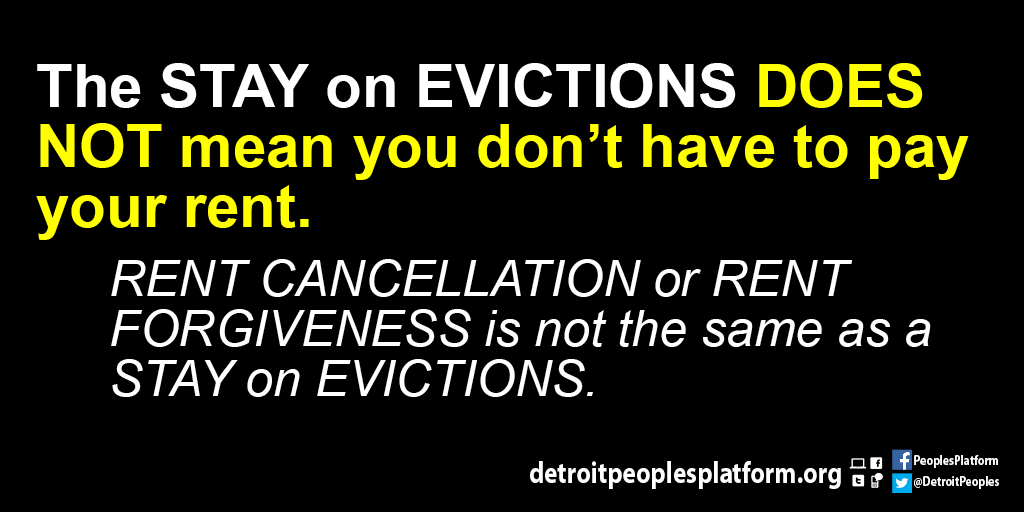 Nowhere in the Governor's recent Emergency Order or the 36th District court order does it say or suggest that you do not have to pay your rent or that you are not expected to pay your rent during the COVID-19 emergency.
At Detroit People's Platform we have joined with national partners in advocating for proposals to cancel the debt of rent and utilities arrears as a result of the tremendous economic hardship many of our individuals and families are facing. However, that advocacy does not at this time influence the nature of the Governor Whitmer's Emergency Order in Michigan or the 36th District Court policy on evictions here in Detroit.
Details of Governor Whitmer's Order and the 36th District Court Order from The Supreme Court as it relates to rent payments include the following:
The current extension on Stay on Evictions that also includes pending court evictions is 5-28-20. After which non-payment of rent action can be filed by landlord or property owner.
Michigan's current RENT MORATORIUM applies also to cases that were filed and evictions put forth before the Governor's executive order.

If you had an eviction case in process prior to the STAY on EVICTIONS, deadlines for filing complaints & additional paperwork is suspended and the delay will not be held against you. Contact the court for further guidance. Some courts will have e-filing &/or mailing available.
exception is that if any tenant or mobile homeowner poses substantial risk to another person or property they can be evicted.
After 5-28-2020 landlord are expected to take the same measures required for a legal eviction process.