Detroit is largest Majority Black City in America.
We are one of the epicenters of COVID 19 infection and death among Black Americans. ?
Right now Detroiters must focus on the Budget and COVID-19 relief funds. It's all about the Benjamins; about following the money. Detroiters who are most impacted must benefit and we want a budget that puts Detroiters first.
In the coming weeks Detroit People's Platform members and supporters will be watching, advocating and taking action on the (1.) current Budget Cuts to 2020, (2.) the proposed 2021 Budget and (3.) the COVID-19 relief funds.
We demand Transparency, Racial Equity and Accountability in decisions being made on the City Budget and COVID-19 Relief Funds.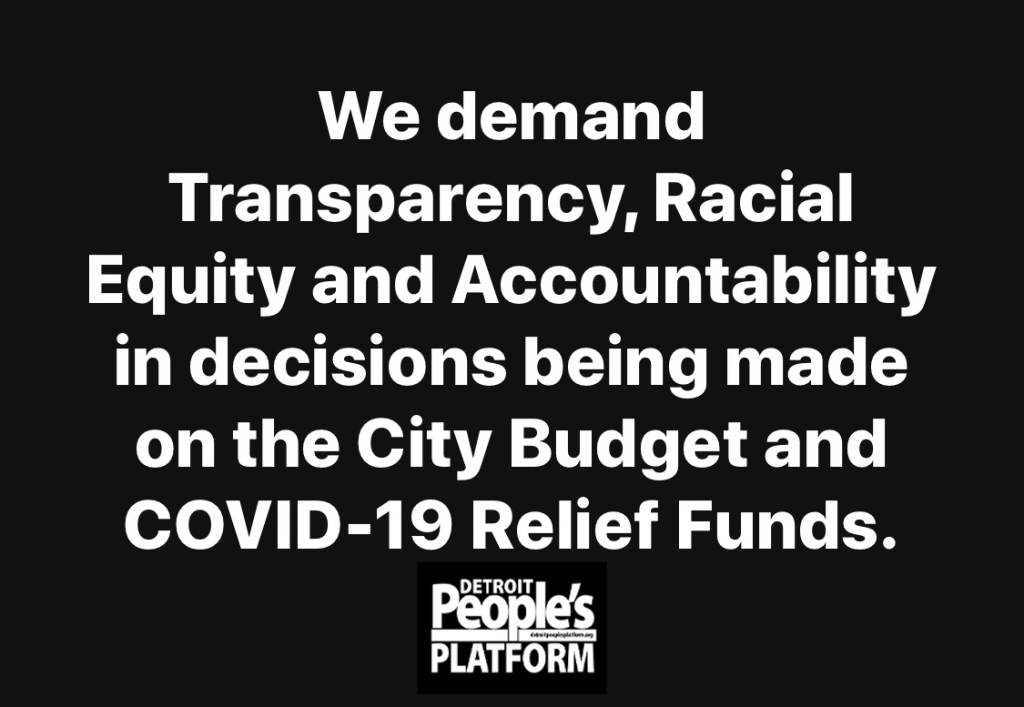 1. We demand the process and decision making be transparent. These decisions will impact Detroiters for generations to come.
2. We demand the allocation of the budget and relief funds be centered in racial equity that produces economic and social well-being for Majority Black Detroit. When we center Race and Racial Equity ALL Detroiters benefit. 
3. We demand a process that holds elected officials and decision makers accountable to Detroiters.
Related: "Millionaires and billionaires are set to reap more than 80% of the benefits from a change to the tax law Republicans put in the coronavirus economic relief package, according to a non-partisan congressional committee."
Policy making doesn't stop. Even in the middle of the COVID-19 crisis decisions are being made that will impact generations of Detroiters to come.

There are two pots of money being negotiated on during the COVID-19 crisis; the Detroit City Budget and the Federal COVID-19 Relief Funds. This week the Mayor has us focused on the City Budget Cuts but there are also discussions being had around how the COVID-19 relief funds will be used. We need to keep our eyes on both pots of money.

Our work is to remain vigilant, "show up" as we are able through calls, emails and participation in virtual meetings when possible, and make demands on our elected officials. While we organize and live through the state emergency orders we must continue to exercise our political muscles and flex our power. Let's not let our Democracy become invisible. Now more than ever we need to engage with our government. 
Join Detroit People's Platform in the coming weeks as we ramp and amp up these demands on the Mayor and Detroit City Council.