#2 THE FAILURE TO PROTECT RESIDENTS FROM STELLANTIS' AIR QUALITY VIOLATIONS
In early 2019, Mayor Duggan announced the expansion of then FCA's Detroit Assembly Complex. The public investment and size of the project triggered the city's Community Benefits Ordinance. Over the last 2 years Justice for Beniteau Residents have pushed back against the project and the inadequate Community Benefits Agreement.
In September of this year, the plant was cited with what has become a string of air quality violations that has brought renewed focus on the project and its impact on air quality and quality of life.
Learn More
We stand with Beniteau Residents in demanding Mayor Duggan, the City of Detroit, Detroit City Council, EGLE and Stellantis take responsibility for their role in this injustice, take action to correct course through assessment, and implement home repairs and voluntary relocation as remedies.
The city is failing in its role to serve and protect Detroit residents. Residents in the impacted area must continue to organize and demand Mayor Duggan, the City of Detroit, Detroit City Council, EGLE and Stellantis address the poor air quality impacting their health and quality of life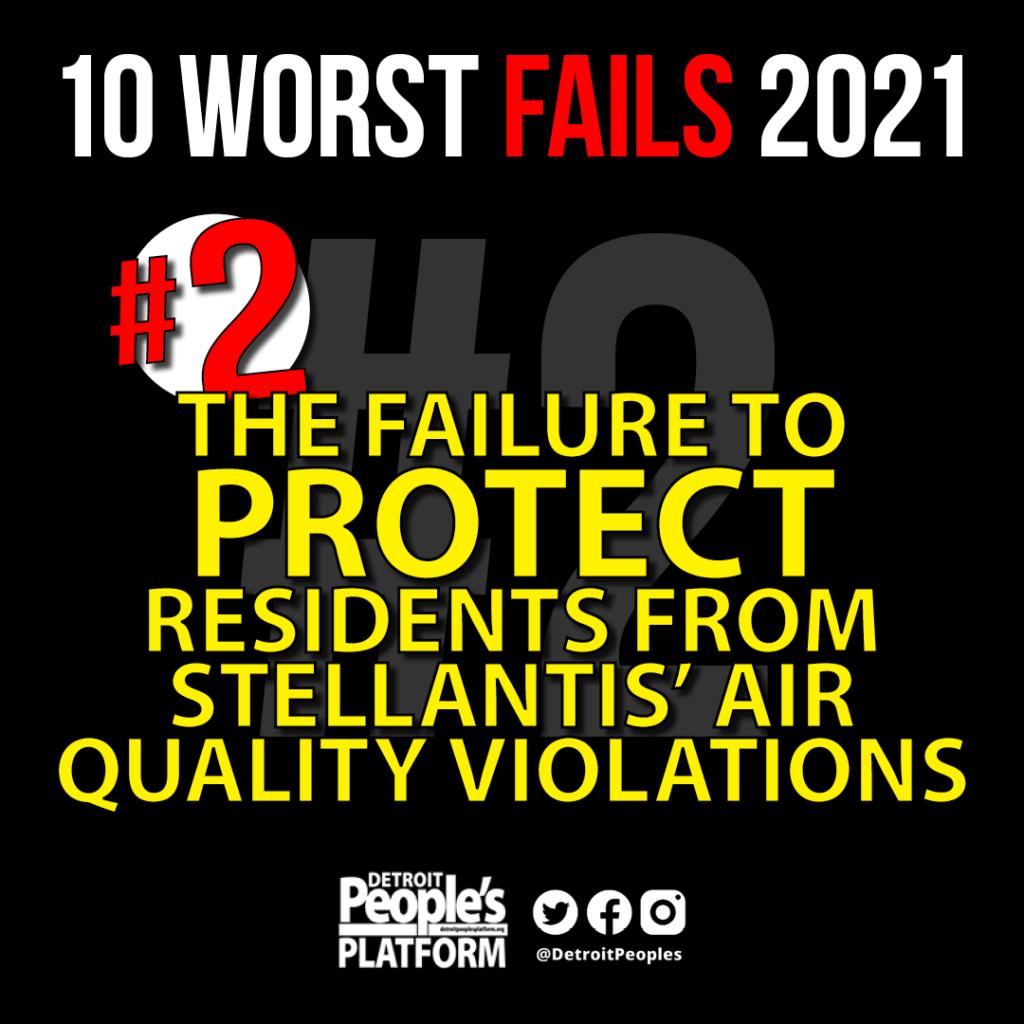 2021 was another difficult year for many Detroiters.
The problems we face have been intensified by the failures of Mayor Duggan, Detroit City Council Members and the City Departments that implement their policy. The pains we feel have increased due to the failure of many community leaders to demand better for majority Black Detroit. 
Detroit People's Platform keep it real by ditching the 'best of' list to call out the 10 worst failures of 2021
Note: This is not intended to be an exhaustive list and our ranking is based on analysis of impact on neighborhoods DPP organizes with. Injustice is rampant in Detroit.
IN 2022, JOIN WITH DETROIT PEOPLE'S PLATFORM BECAUSE WE WIN WHEN MAJORITY BLACK DETROIT FIGHTS BACK!
The Detroit People's Platform (DPP) is building a Detroit where race and the priorities of Majority Black Detroit are centered.  Our work advances racial and economic Justice in the nation's largest Black majority city by organizing with community residents and community leaders to build grassroots power and transform systems and structures that make real the vision for a more racially just Detroit.
Sign up below and
STAY UP TO DATE
Join our mailing list and stay up-to-date on all the events and activities at Detroit People's Platform.