#4 FAILED RESPONSE TO THE CURRENT DETROIT HOUSING CRISIS
In 2021 the city budget reflected only a negligible increase in the budget for affordable housing in spite of the credible housing crisis across the city.  Before the covid pandemic, Detroiters needed elected officials to advocate for and support affordable, accessible and safe housing for low income households.
The affordability crisis has only increased and the lack of threatens to undermine any reasonable prospect of a post covid recovery. The priority of the mayor and city council has been to provide public subsidies to private developers and their luxury housing projects rather than providing funding and supporting policies that increase housing options that majority of Detroiters can afford.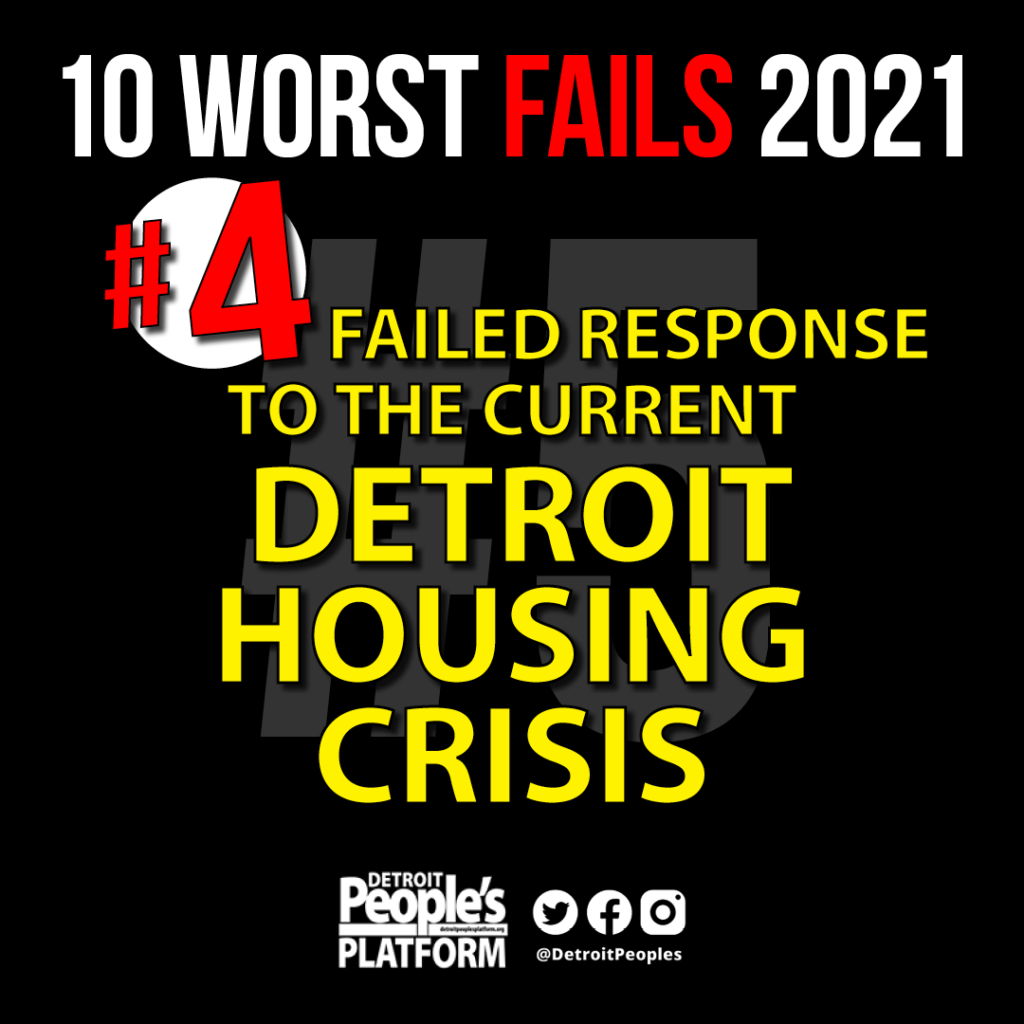 What's Next? 2022 Organizing and Advocacy
In the coming year, DPP will organize with renters across Detroit to advocate with elected officials to WIN a Right to Counsel Ordinance that includes what renters say we will work for them. We are continuing to collect surveys and encourage you to please share this survey.
Right To Counsel Survey: https://bit.ly/RightToCounselSurvey
2022 JOIN US: WE HAVE A PLACE FOR YOU
We have a place for you and the best way is to stay in the know by joining our email list.DPP and our renter leaders conduct trainings, organize and advocate for community led solutions with you and your neighbors to WIN on your issues.
Join the Housing Justice Renters Team
2021 was another difficult year for many Detroiters.
The problems we face have been intensified by the failures of Mayor Duggan, Detroit City Council Members and the City Departments that implement their policy. The pains we feel have increased due to the failure of many community leaders to demand better for majority Black Detroit. 
Detroit People's Platform keep it real by ditching the 'best of' list to call out the 10 worst failures of 2021
Note: This is not intended to be an exhaustive list and our ranking is based on analysis of impact on neighborhoods DPP organizes with. Injustice is rampant in Detroit.
IN 2022, JOIN WITH DETROIT PEOPLE'S PLATFORM BECAUSE WE WIN WHEN MAJORITY BLACK DETROIT FIGHTS BACK!
The Detroit People's Platform (DPP) is building a Detroit where race and the priorities of Majority Black Detroit are centered.  Our work advances racial and economic Justice in the nation's largest Black majority city by organizing with community residents and community leaders to build grassroots power and transform systems and structures that make real the vision for a more racially just Detroit.
Sign up below and
STAY UP TO DATE
Join our mailing list and stay up-to-date on all the events and activities at Detroit People's Platform.