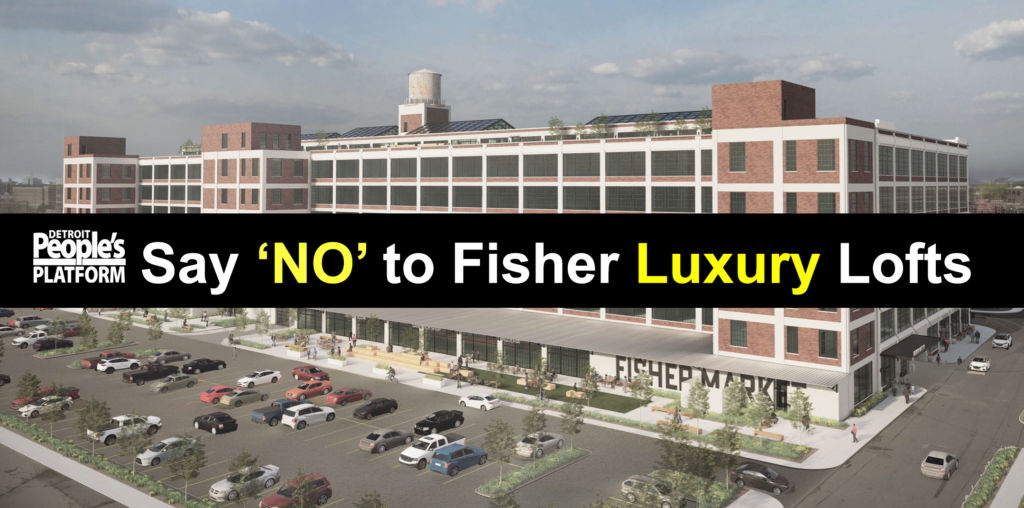 Media Statement
June 8, 2022
Racial Justice Organizers say "NO!' to Fisher Body Plant 21
The public funded luxury redevelopment will perpetuate Detroit's housing crisis.
Detroit, MI – Detroit People's Platform has been closely monitoring the Community Benefits process for the Fisher Body Plant 21 project. The luxury apartment housing development situated in the historic Hastings Street locale, is heavily subsidized with roughly $50 million in various tax abatements, tax credits, grants and incentives.  The size of the investment and the public support has triggered the city's Community Benefits Ordinance.
As mandated by the ordinance, there is a 9-person Neighborhood Advisory Council (NAC) with members appointed and elected by impacted residents.  The NAC is charged with both identifying project impacts and recommendations for mitigating those impacts with community benefits. Cited by the Mayor as Detroit's largest equity economic development project and boasting the tagline "Built by Us for Us" the development team is led by Richard Hosey and Gregg Jackson both veteran developers in Detroit.
However, the project launch comes at a critical time in the city as thousands of Detroiters face uncertainty about their housing situation.  Escalating rents and a diminishing supply of truly affordable housing in the city has resulted in growing numbers of Detroit families facing eviction and displacement.  University of Michigan's recent Detroit Metro Area Communities Study states that 9% of Detroiters have no housing options and about 39,000 households pay more than 50% of monthly household income for rent.  Most vulnerable are households with women and children.
"As someone who has fought for equity and racial justice here in Detroit for decades the ability of Black developers to access capital and resources is without question a goal for equitable development" says Linda Campbell with Detroit People's Platform a racial justice organization that organizes with residents across the city around housing issues. "Championing investment of scarce public resources in the production of $1200 dollar a month studio apartments while women and their children are forced to sleep in cars represents failed public policy at its worst alongside the failure of our elected officials to prioritize the needs of the most vulnerable residents."
As one of the community benefits, the Neighborhood Advisory Council (NAC) has recommended the developer add an affordability rate of 50% AMI which would include a household of 4 with an income of approximately $33,000.  Even with that concession, the project is mismatched for the needs of the average family with only 17 (2) bedroom units available from the proposed 433 total apartments.
As the project makes it's way thru the approval process over the coming weeks Detroiters are encouraged to show up and voice their concerns. The remaining community benefits meetings are scheduled on Tuesday evenings and the project will be voted on by Detroit City Council in the coming weeks.
Read and Learn More:
https://www.detroitpeoplesplatform.org/economic-justice/fisher-body-community-benefits/
More:
https://www.detroitpeoplesplatform.org/economic-justice/the-fisher-body-plant-21-perpetuates-the-housing-crisis-in-detroit/
Videos of Meetings and Public Comments:
https://youtube.com/playlist?list=PLy5aqxoFbwK1VFORWxiyIxASS-21YZDrD
City's webpage on the project
https://detroitmi.gov/departments/planning-and-development-department/design-and-development-innovation/community-benefits-ordinance/ongoing-cbo-engagement/fisher-body-21