I-375 Project plans to resurrect black bottom without recognizing historical injustice
A project to remove I-375 freeway and replace it with a surface level boulevard is being led by Michigan Department of Transportation (MDOT) in partnership with the City of Detroit. The project includes three phases – study, design, and research.  
Proposed Neighborhood and Project Boundaries
Streets: Jefferson, Larned, Gratiot, Lafayette, Fisher 375 Interchange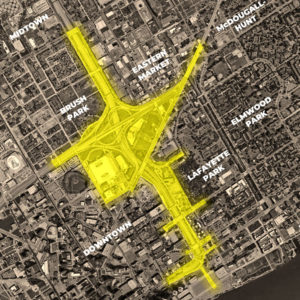 Neighborhoods likely impacted:
Lafayette Park; Eastern Market; McDougal Hunt; Elmwood Park, Brush Park
Timeframe
Estimated construction period
2025 - 2027 
Proposed Processes and Governing Structure 
Discussions to remove the freeway have been happening since 2014, some community outreach has happened already
Civil engineering firm HNTB is the main consultant on the project
MDOT will lead the freeway removal and replacement portion of the project
This is federal land. After the freeway is removed, available land will be transferred to the City of Detroit through federal and state of Michigan procedures
Roughly $330 Million in federal funding thru the Reconnecting Communities grant and State of Michigan funding is available for the planning and construction of the project through 2027
A Local Advisory Committee (LAC) is planned to include a large group of community stakeholders and a 5 person decision making executive committee with an appointee from Governor Gretchen Whitmer; Detroit Mayor Mike Duggan; and MDOT Director (pending new appointment by the Governor)
The project includes a required Community Enhancements Plan with a stated purpose "to acknowledge the historical significance and contributions of the displaced Black Bottom and Paradise Valley communities" Reference:

 

I-375@detroitmi.gov
Impacts associated with existing I-375
I-375 roadways and bridges are deteriorating, subject to weather disruptions (i.e. flooding) and will require significant public investment to maintain

 

Urban freeways are a health threat to Black Detroiters, contributing to our vulnerability to heart disease, respiratory illnesses, and more
Ongoing public investment would be more effectively used to make investments in Detroit Department of Transportation (DDOT) and other public transit/transportation options that promote healthy urban life rather than continued I-375 improvements
Detroit People's Platform (DPP's) Position Statement on I-375 Project and Reparative Justice
DPP believes that the injustice of displacing tens of thousands of Black Detroiters, homeowners, thriving businesses, and cultural institutions for the highway's construction needs to be remedied in parallel with the absence of Black Detroiters in major downtown development today

 

Data that outlines the long-term economic and social impact of the I-375 highway disruption must inform the project and drive decision making around reparative action for the displaced historical Black neighborhoods

 

Meaningful public engagement must be a key part of deciding reclaimed land uses. Holding elected officials accountable to a transparent and democratic process will be critical

 

Opportunities for Black Detroiters to benefit from construction activity and the use and ownership of land after the freeway is removed must be prioritized to adequately acknowledge the historic wrong of destroying Black Bottom and Paradise Valley
The City of Detroit and DDOT must be proactive about mitigating the impacts of major construction on key bus routes and essential bus riders. Safer streets and enhanced accessibility must be embedded in the actual design process.
Further, DPP believes that land reclaimed from the I-375 freeway can: 
Establish community land ownership opportunities and truly affordable housing options
Facilitate the development and siting of Black owned business formations

 

Advance economic development that supports the priorities of Black Detroiters
Support the historical and reimagined cultural presence destroyed by the I-375 urban renewal project
Follow Detroit People's Platform in the coming months for information and ways to become involved in the fight for I-375 Project Reparative Justice.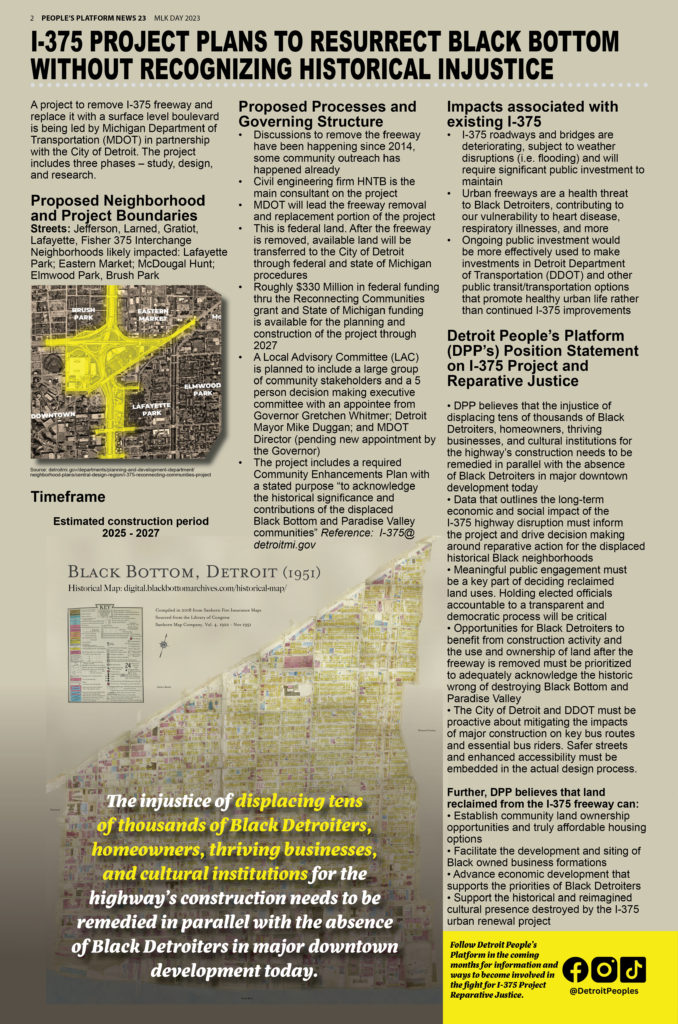 STAY UP TO DATE
Join our mailing list and stay up-to-date on all the events and activities at the Detroit People's Platform.