Transit Justice Team Successfully Passes the DDOT Bill of Rights in 2022
Last year in November 2022, due to years of canvassing, digital organizing efforts, support from community in public comments, and circulation of a digital petition, resulted in the passage of the DDOT (Detroit Department of Transportation) Passenger Bill of Rights. The City Council passed the resolution unanimously. The DDOT Bill of Rights was supported originally as part of a set of progressive policies supported by several council members, including Council President, Mary Sheffield, as a part of her "People's Bills." The Bill of Rights has been sent to the mayor's office and the DDOT Director. We are pleased to report that the DDOT Bill of Rights is now officially city policy!
The Bill of Rights is a part of progressive policies set forth by our campaign to revise the City Charter – Proposal P. The Racial Justice Workgroup, a coalition of organizations, activists, and advocates for racial justice and equity remained committed to supporting policies from Proposal P that are designed to create equity, accountability, and increased participation in city policy decision-making and returning power to residents. The DDOT Bill of Rights is one major successful part of our organizing efforts to support a just, progressive, and equitable city for Majority Black Detroit.
In 2019, the Transit Justice Team invited essential bus riders to participate in the drafting and ratification process, facilitated by the Transit Justice Team and drafted 11 rights that are now included in the bill of rights – which outline basic expectations and expands upon current City Charter mandate to ensure DDOT provides "safe, convenient, and reliable" public transportation. However, the reliability of bus service has not been a reality for many essential riders across the city.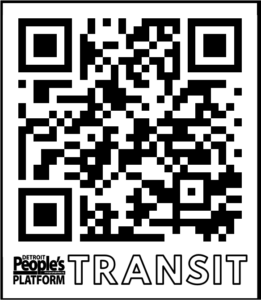 The DDOT Bill of Rights reflects community demands and increased accountability from our public transit department: policies related to adequate communication of delays in service, detours, and rerouting, equitable fare policies such as the Low Income Fare Program – which will reduce bus fare and passes by 75% for individuals without housing, returning citizens, families and individuals with low incomes, and veterans – using metrics such as income, housing status, and other qualifications that will allow bus riders struggling to keep up with increasing costs and inflation, to access our transit system. This policy will ensure that DDOT is accountable to essential riders - with increased voice and input in transit decisions, reliable service, adequate and accessible transit facilities, and infrastructure and expectation that one's complaints, concerns and grievances will be addressed in a timely manner, and multilingual publications for individuals that speak English as a second language. These rights are reasonable expectations that are the norm for many cities across the United States but have been long denied to essential riders in Detroit.